From Product Catalogue or Asset List you can add new vibration records.
Select the Vibration properties of the Asset or Product by selecting the Vibration Button on the menu located at the bottom of the window.
If the product or asset already has any vibration records they will now be displayed in the grid.

Add New Vibration
Right Click the grid and select the New to add Vibration Record or press Ctrl+Shift+N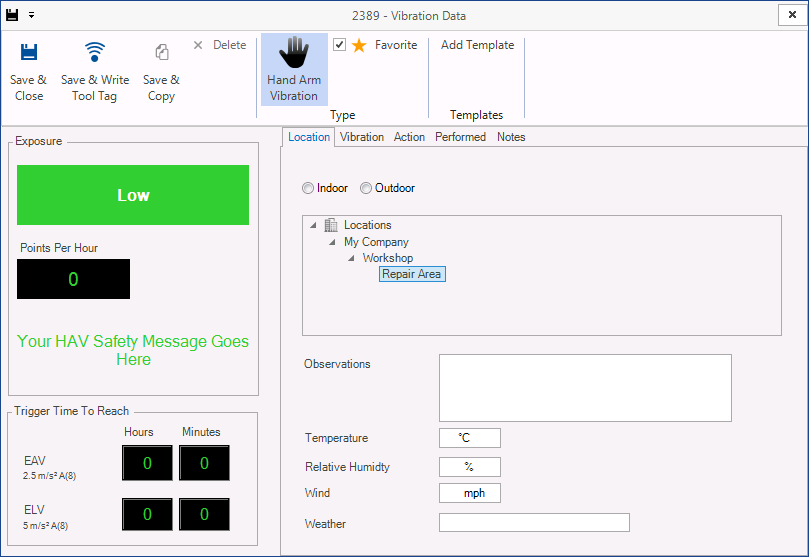 Along the top of the windows is the Ribbon Menu, allowing you to perform the following
•

Favorite -

Selected this vibration record will be the default for the Product or Asset.
•

Hand Arm Vibration -

Select if the vibration is for Hand Arm.
•

Whole Body Vibration -

Select if the vibration is for Whole Body.
•

Add Template -

Templates allow to quickly enter Vibration Data when data values are repeated on each vibration record.
The tabs across the middle of the window allow you to enter details about the vibration record.
•

Location -

Location the vibration test was performed and environmental conditions.
•

Vibration -

Vibration value, the source of the vibration, this could be the manufacturer of the Asset or supplied from a independent testing company.
•

Action -

The action being performed during the reading of the vibration value of the asset.
•

Performed -

Date and individuals who performed the vibration test.
•

Notes -

General notes taken during the test procedure
When you have completed entering vibration record, click Save & Close and the record will be saved.